THE FABS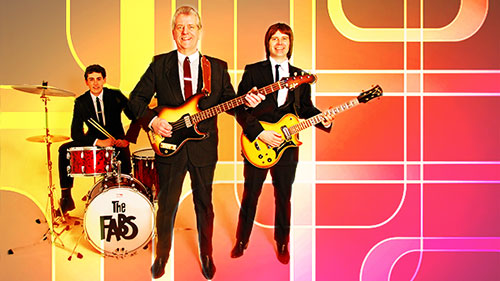 Brilliant live Sixties Tribute Band, re-creating the sounds and songs of the Cavern Club era,1965 to1969.
Fabulous harmonies, authentic instrumentation and immaculate presentation, with hits from: The Beatles, Rolling Stones, Kinks, Searchers, Who, Drifters, Swinging Blue Jeans, Merseybeats, Tremeloes and more.
Unforgettable versions of: Sweets For My Sweet, She Loves You, Do You Love Me, Hang On Sloopy, You Really Got Me, Up On The Roof, Hippy Hippy Shake, Poison Ivy, Bad Moon Rising, Here Comes My Baby, Happy Together, All or Nothing, Needle In A Haystack, Let's Dance, Do Wah Diddy Diddy, Whatcha Gonna Do About It, Hi Ho Silver Lining, All Day and All of The Night, Mony Mony, Twist and Shout and many more.

get iCal link